® Intel, the Intel logo are trademarks or registered trademarks of Intel Corporation or its subsidiaries in the United States and other Countries.

Conference Proceedings Library
The full text of the proceedings listed below are available to all IEEE Computer Society members and requires only a free CS E-Account.
The abstracts and tables of contents of all proceedings are available to everyone.
Note: Information linked to from this page is maintained by the IEEE Computer Society.

March 27th Deadline for Advance Registration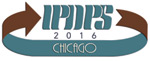 May 23-27, 2016
Chicago Hyatt Regency
Chicago, Illinois USA